Name: Sgt Jesse Jackson
Branch of Service: Army
Age: 35
Deployment: Iraq
Wish: A Restful Night's Sleep
Granted
Sponsored by Sleep Number
Wish Granted: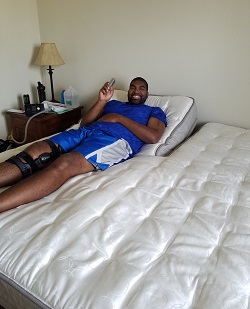 Sgt. Jackson is now enjoying a restful night's sleep on his new Sleep Number Bed!


Description of Injury:
It was December 6, 2006, in Iraq. My platoon was on a route clearance mission and as we were on our way back to our base, my vehicle was hit by an RPG. Shrapnel from the explosion hit my right leg, causing major knee damage. I have had five knee operations to fix the damaged cartilage, ligaments, and muscles, but the doctors are saying that I need a full knee replacement. However, because I am still young, the doctors do not believe the replacement will last for the duration of my life. At this point, I am on a pain management regimen and walk with a cane until a permanent option is possible.
Wish:
**Sgt. Jackson's wish had been to give his wife an overdue honeymoon. Due to his progressing injuries and worsening condition, the A Million Thanks team, in conjuction with Sgt. Jackson and his family, agreed that changing his wish to a Sleep Number would be exponentially more beneficial.