Name: Ft. Hood 602nd Support Maintenance Company
Branch of Service: U.S. Army
Age:
Deployment:
Wish: Book party for children of deployed servicemen and women
GRANTED
Sponsored by Enterprise Counsel Group
Wish Granted: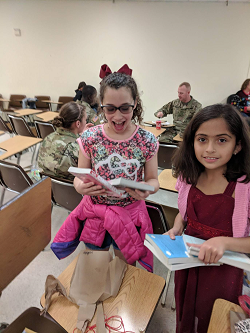 The children were delighted with their bundles of books.


Description of Injury:
The 602nd Support Maintenance Company, U.S. Army, Fort Hood, TX is made up of approximately 200 Army soldiers and their families. An unexpected deployment near the end of the year resulted in the organizer, Pfc. Megan Velez (ret.) having to scale back the annual family Christmas event. They were forced to eliminate the usual gifts of books for the children. The book element has always been one of the gift highlights of the program. The parents use the books for bonding time with their children, reading to -- and with -- them. When an unexpected deployment occurs around the holidays, sometimes the only presents some of the children receive are the gift donations made to them.
Wish:
Pfc. Velez's wish is for a donation of children's books for the families of the deployed soldiers.