Name: Ssgt. Steven Theurich
Branch of Service: U.S. Marine Corps
Age: 28
Deployment: Middle East
Wish: Furniture for new baby's room
GRANTED
Sponsored by Enterprise Counsel Group
Wish Granted: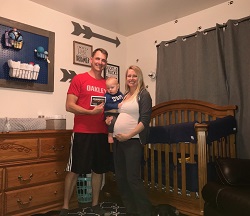 Ssgt. Theurich and his family are ready for the new arrival!


Description of Injury:
Ssgt. Theurich has served our country with four deployments to the rough areas of the Middle East. During those deployments, he suffered a variety of injuries. Despite his injuries, he put off his required surgery in order to continue with his Unit. However, this year he was forced to have extensive surgery on his shoulder. It was at this time that he discovered that he and his wife were expecting another child. While he is now recovering well, he is still experiencing ongoing pain from his injuries and the surgery.
Wish:
Ssgt. Theurich's wish is for a crib, bureau, and baby accessories to furnish the new baby's room.