Name: SSG Juan Cintron
Branch of Service: U.S. Army
Age: 29
Deployment: Iraq
Wish: A New Husky (dog) For The Family To Love
Wish Granted: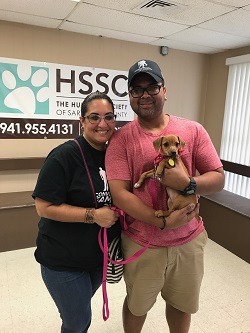 The family loves their new puppy! They named her Chanel.


Description of Injury:
Army SSG Juan Cintron was stationed in Germany in 2004 and accompanied by his wife and daughter. He was deployed to Iraq that same year and was on regular patrols in and around the city of Baiji, Iraq. During each of those missions, he was always thinking of his family back home! That same year, his wife gave birth to their son, Joshua, while still living in Germany. Around this time, while still deployed to Iraq, SSG Cintron witnessed the enemy detonate a car bomb at the gate of his base in Baiji. Since responding to that situation, and witnessing the terrible amount of life lost, severe injuries and devastating aftermath, SSG Cintron started to develop PTSD and depression. In the years to follow, SSG Cintronís PTSD and depression worsened and the Army has since rated him 100% disabled because of his condition.
Wish:
SSG Cintronís family relocated to Florida to provide a nice place for him to recover and his family to grow. As his kids have gotten older, their fatherís main desire is to spend more quality time with them. His PTSD and depression do not always allow him to embark on the activities that his kids want to enjoy with him. He has to spend a lot of time at home and chooses to stay away from large public settings. His wish is to get a male husky for the entire family to love and spend time with, bringing them all closer together!