Name: SSgt Jeffreye Silva
Branch of Service: U.S. Marine Corps
Age: 27
Deployment: Iraq
Wish: Tropical Family Vacation
Wish Granted: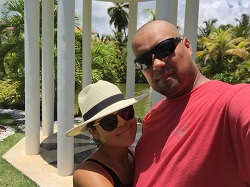 SSgt Silva and his wife enjoyed a memorable vacation in an all-inclusive resort in Punta Cana, Dominican Republic.


Description of Injury:
During February 2007, while conducting combat operations against anti-Iraqi forces in the Al Anbar province of Iraq, a 120mm mortar round struck 30 meters from his position. SSgt Silva suffered a blast of shrapnel to his nose and face as well as a Grade 1 concussion. SSgt Silva has completed four combat tours, even after his original injury, and has since been diagnosed with combat PTSD, TBI (Traumatic Brain Injury), memory problems, chronic headaches and many other physical injuries.
Wish:
SSgt Silva's wish is to take his family on a beach/island getaway. Due to his PTSD and TBI, SSgt Silva spends much of his free time trying to deal with the fallout of these combat injuries. His family does not often get the time with their wife and father. SSgt Silva wishes to visit a family resort where he and his wife will not have a care in the world except relaxing and spending time with their young children.